Flying abroad these days? We are sure you have lots of questions. We have collected the answers to frequently asked questions we know.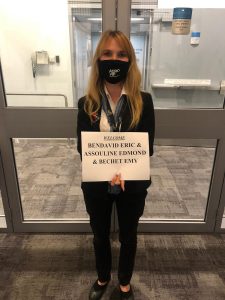 Do All Flights Depart from Terminal 3?
Since the Covid-19 outbreak, Terminal 1 has been temporarily closed until further notice; therefore, all flights will depart from Terminal 3. The meeting with the VIP agents is at Gate 32 till further notice .
Are any Special Permits required from Passengers Departing from Israel?
Passengers departing Israel do not require special permissions, but it is important to verify the arrival guidelines in the destination country as entry will not be granted to all countries. There are countries that currently do not allow entry to Israeli citizens, and some countries allow but require a 14 day quarantine after landing. In any case, Israeli authorities will require a 14-day home quarantine upon arrival.
What has changed in the Airport since the COVID-19 Outbreak?
A temperature check is done at the entrance to Ben Gurion Airport and only those who fly may enter the terminal area, escorts or greeters are not allowed to enter the airport. Beyond that, it is highly recommended that you check-in online. Entrance to the airport only allowed by wearing a mask, and it is important to keep social distancing throughout the security and check-in process.
Pre Flight Service
Pre-flight service is no longer offered at Ben-Gurion Airport but Fast Track service is available at Ben Gurion Airport – VIP service at the airport will take care to make your process at the airport easier and faster with AEROVIP agent.  You can book VIP service on our website and enjoy 5% discount. 
How Long before the Flight, do I need to arrive at the Airport?
Nowadays, in Ben Gurion airport, the guidelines are to arrive 4 hours before the flight. AERO VIP passengers can arrive 02:30 hours before the flight
Do All Incoming Passengers Require Quarantine?
Yes, anyone who lands in Israel must be in home quarantine and must fill out a declaration of the same when landing in Israel. The declaration is delivered to the Ministry of Health on an online form. You can get the link to fill out the form from our reservation center team. Today, there is a 14-day quarantine obligation upon arrival in Israel to all passengers returning to Israel.
Is it Possible to Book Airport Transfer Services?
Yes, in addition to the VIP services we provide on arrival, we will be happy to assist you with a clean and sterilized VIP car, which will transport you to all destinations. We will be also happy to assist you with transfers and trips while you staying in Israel.